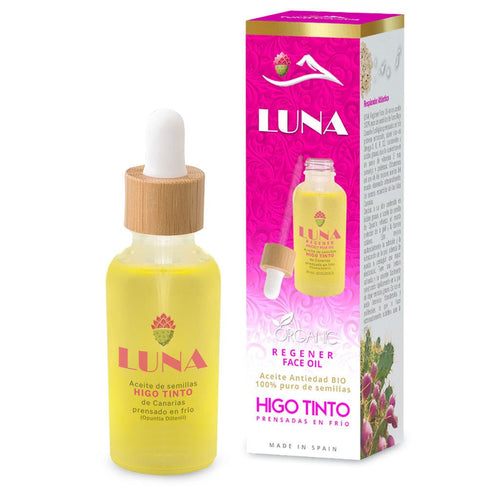 What is LUNA, the RED FIG SEED OIL?
LUNA "REGENER FACE OIL" is a luxurious facial oil SERUM. Red Prickly Pear seed oil from the Canary Islands "Opuntia Dillenii" is one of the rarest and most precious facial oils in the world. Much more so than Prickly Pear for its superior regenerating and antioxidant content. Don't look for it anywhere else in the world because we are the only ones who make it from this amazing variety of prickly pear.
Ideal for: acne, oily skin, pimples, wrinkles, blemishes, rosacea, redness, sensitive skin, stretch marks, scars.
Objetives: brightening, moisturizing, smoothing wrinkles, healing.
What type of skin do we recommend it for?
Oily skin, including acne

Devitalized or photo-aged skins

Dry or normal skin

Sensitive skin

Mosquito bites

Scars and stretch marks

Pimples

Wrinkles

Blemishes
HIGO TINTO SEED OIL is 100% certified organic, cold-pressed seed oil from Tuno Tinto de Canarias figs (Opuntia Dillenii). A powerful antioxidant that absorbs quickly rejuvenating mature skin and giving it a lifting effect. Made from the seeds of red figs (also called Indian Tuno) harvested by hand in the Canary Islands. To obtain this oil, only the dried seeds are used and not the fruit.
It is known as "vegetable anti-wrinkle", because RED FIG seed oil has a regenerating lifting effect. It reduces wrinkles, smoothes the skin, especially in soft areas such as the eye contour and also lightens sun spots.

It contains much more Linoleic Acid (Anti-Aging) than normal Prickly Pear Oil!
This oil is suitable for oily or dry skin. Also for sensitive skin. In oily skin, the first effect that begins to be noticed with the continued use of Prickly Pear Seed Oil is that it tightens and refines the pores.
This oil is a true youth serum. A powerful anti-aging cellular.


How do we extract the seeds?
Considered one of the hardest seeds in the vegetable kingdom, we finally get them cold pressed to obtain its pure and precious virgin oil "SERUM LUNA".
Unisex / Suitable for all skin types, even the most sensitive / Hypoallergenic.
15ml/30ml packs - ORGANIC - Vegan

"LUNA" KING OF OILS
Why use TINTO FIG SEED OIL?
Most people know that vitamin E is great for the skin. But not many people know that to get optimal health benefits from vitamin E, you need a mixture of tocopherols (generic term for vitamin E and about eight other vitamins and antioxidants of similar chemical composition) (alpha, beta, delta and gamma) and tocotrienols ( alpha, beta, delta and gamma) which are mandatory. And most vitamin E supplements consist mainly of alpha tocopherol.
Did you know?
That RED FIG SEED OIL is one of the few oils (natural ingredient) known by cosmetologists to replace and rebuild collagen in the skin?
SERUM LUNA FACE OIL is the only oil you need for mature skin.

Wildly cultivated in the pure and fertile volcanic soil of the Canary Islands under the slopes of Mount Teide.
Hand-picked fruit and EU-certified process
No additional heat or maceration
Contains the highest percentage (90%) of unsaturated fatty acids of any beauty oil, with an optimal linoleic to oleic ratio of approximately 4:1. Very rich in linoleic acid, phytosterols and polyphenols, it is ideal for nourishing the skin and keeping it soft, supple and radiant.

One of the most luxurious oils in the world. It has a satiny texture and is easily absorbed, penetrating the skin quickly without being greasy.

THE MIRACLE PLANT
ATLANTIC RADIANCE
TRANSFORMER