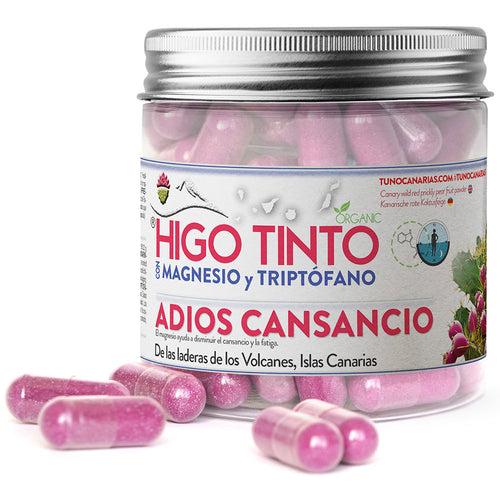 L-tryptophan is an essential amino acid, which means that our body cannot produce it itself and that it must be supplied exogenously.
Tryptophan acts as a precursor of serotonin, a neurotransmitter involved in the regulation of mood, stress and rest.
It is involved in the formation of melatonin.
Magnesium helps to reduce fatigue and exhaustion.
Amino acids are essential for many metabolic processes.
The large amount of amino acids, vitamins and minerals in HIGO TINTO are essential for many processes in our metabolism.
Remedy
The HIGO-TINTO Canary fig (Opuntia Dillenii) grows on the leaves of the Nopales cactus. It was introduced to the Canary Islands centuries ago from the Americas, where it has been a staple food for thousands of years. A hidden island treasure Rich in fibre, vitamins B1, B2, B6, C, potassium, calcium, magnesium, iron and zinc, it has been used in Canarian folk medicine and by indigenous American peoples for hundreds of years.
Amino acids
Free amino acids in RED FIG fruit: Alpha-aminobutyric acid, glutamic acid, alanine, arginine, asparagine, carnosine, citrulline, glutamine, glycine, histidine, isoleucine, leucine, lysine, methionine, phenylalanine, proline, serine, taurine, threonine, tryptophan, tyrosine and valine.
RED FIG :
Rich in mucilage; fibre.
Provides many nutrients
Promotes normal intestinal transit
Hand-picked from the volcanoes of the Canary Islands.
Improves health, revitalizes
King of fruits in vitamins and minerals - A prodigious fruit
HIGO TINTO
The Tuno HIGO TINTO Canary Fig is harvested in the ravines and on the slopes beneath the volcanoes of the Canary Islands. The RED CANARY FIG is one of the largest sources of betalains in the plant kingdom. Studies have shown that betalains improve circulation and sports performance. It also contains TAURINE which stimulates reproductive life.